Welding with Laser
point-, seam- oder roundseamwelding
Laser welding
Laser welding offers enormous advantages. The precisely accurate processing reduces the heating of the surrounding material which implies a minimal heat distortion. Furthermore the weld seam can be adjusted in depth and amplitude. The alternatives of point-, seam- or circular seam welding offer multifunctional solutions for their connection task. And the combination of different materials creates the application for quite a wide spectrum.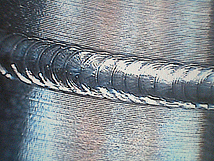 The precise targeting of the laser weld seam leads to an almost artistic, aesthetic appearance of the finished result. A clear characteristic of highest precision and simultaneously a signet of quality for a secure connection.
Our LASERDEVICES
consists of modern equipment and machines from LASER TECHNIK
As subcontractors, we produce components and assemblies for customers in almost all industrial sectors - from prototypes to small batch series.